On June 26th, I wrapped up my greatest acting achievement to date – as Jay "The Sport Jackson", in a critically acclaimed adaptation of the award-winning stage play, "The Royale". The Royale is a riveting story inspired by the life of Jack Johnson, the first African American boxing heavyweight champion of the world who experienced tremendous adversity on his way to success. Written by one of the most wanted writers in the game, Marco Ramirez (credits include Orange is The New Black, Sons of Anarchy). The Royale is set in 1905 during the early stages of Jim Crow and explores his struggle to defeat racism, segregation, and bigotry the only way he knows how: with his charisma, bravado, and his fists. The Royale has seen acclaimed productions in New York, London, Chicago, Los Angeles, and more. This production took place on the GableStage in Coral Gables, FL.
To say that it was an honor to be chosen for such a production – as the lead nonetheless – is understatement. My thoughts were, "So you want me to play a loud, brash, outspoken athlete who sleeps with white women just to spite people? Where do I sign up?" Its at the top of my list of overall personal accomplishments, along with graduating from university and completing a marathon. But getting casted was just the beginning. I didn't want any handouts. I auditioned like everyone else and received no preferential treatment during this process. Going into this project, I knew this would be the biggest challenge of my career. To date, I've been on a handful of TV shows, national commercials, billboards and magazines, but a stage? A stage can't be edited. On a stage, I couldn't wait for the next take to get it right. So I left no stone unturned.
It's easy to fool yourself into thinking that you and you alone accomplish great success. The fact is that it takes a village. I am so proud and humbled that everyone involved from the writer, director, cast, staff, critics, audience, and successful past productions contributed to the tremendous success of our project.
After weeks of putting in research, and reading and rereading my dialogue so much I knew it backwards (literally), it was time to start rehearsals. I was excited to meet my new cast members, surprisingly three of which are fellow University of Florida Gators. GO GATORS! With all of the claps, stomps, beats, and rhythms of the Royale, it is safe to say that rehearsals at times were brutal, down right ugly, however we all stuck together as an ensemble and improved no matter what every single day from the first day of rehearsal until the last line of the last performance. And that's really all you can ask for. Our movement coach Rudi Goblen, a tried and true B-Boy really was patient, helpful, and creative with us. I am sure dancing with the stars is now in my near future. And our boxing instructor Bert Rodriguez was equally helpful giving insights on the sweet science.
I've been taught that if the director casts correctly, 95 percent of his job is done. Now I understand why. Director Joe Adler nailed it with this cohesive cast of actors. Putting on 6 or 7 shows a season for more than 18 years comes with a lot of respect, truth, and reputation. The ensemble consisted of Gregg Weiner, as the promoter Max, a Don King type, a shark in human skin. Armed with a booming stage voice and presence, Gregg is a crafty veteran and true professional performing in his 15th show at GableStage alone. And not to mention a hell of a sense of humor. I won't repeat his jokes on this forum at this present time, let's just say he kept a smile on our faces. The backbone of our beats and rhythms onstage was Ryan George, who played my sparring partner, Fish. He kept the ensemble in line with his rhythm and efficiency, and was creative in his approach to his character, constantly growing and adding new dimensions with every performance. He also gave me insight into playwrights like Tarrell McCraney, and the Brothers Size Trilogy. Tarell is an ensemble member of the world famous Steppenwolf Theatre in Chicago and Marco Ramirez has previously stated that Tarell had a tremendous influence on his work, so everything comes full circle in one way or another.
I was fortunate enough to know Shein Mompremier, who played my sister Nina, prior to rehearsals. We had worked together on a Pepsi commercial. We talked about her conservatory experience at ACT in San Francisco, ActTrue classes (led by acting coach, Marc Durso), her passion to be an actress, and a few months later, we were both making our professional stage debuts in a critically acclaimed production together. It helped relieve the pressure because both of us were experiencing similar anxieties and emotions involved with our first production. We bonded like a brother and sister, rehearsing together several times before official rehearsals commenced. We established a genuine sibling relationship, spoke candidly and in depth about the times post slavery and reconstruction era, putting aside our personal insecurities about how black people should be portrayed and look and just getting to the truth of our characters. We had passionate discussions about our acting techniques and coaching.
Andre Gainey (Wynton) the boxing coach/trainer proudly claimed in rehearsals that he is always the last person off book (to remember dialogue) and boy was he right lol. Through rehearsals we always believed in him and never wavered and I think it really helped his confidence with the role. Once the play started he was our most consistent performer. Let me remind you he did all of this while holding a full time job as a high school drama teacher. His pre-show routine rivaled Steph Curry's pre-game routine, the way he consistently, and vigorously went over his lines and blocking (where you are suppose to be on stage). Before every show he rehearsed all of his lines and blocking religiously. I will definitely add his pre show techniques to my acting arsenal. I learned so much from him about the magic of August Wilson's plays, and the African American theatre culture in South Florida.
The unsung hero of this production however was Stage manager Kristen Pieski. She always held us accountable with our blocking (where we are supposed to be on stage) and in the 23 performances with hundreds of lighting cues, she never once missed a beat. Big shout outs to Stormy Barnhill, the assistant stage manager who was very diligent and assertive communicating every detail during pre show and the performance. Our props and wardrobe were always in the right place and the right time.
The box office ticket managers Dennis and Eloisa Ferrer were clutch with handling the demands of ticket accommodations. Sometimes 20 people or more would be at the show to see me and they never had any problems with tickets or seating. My family has been in the business of selling tickets to concerts/sporting events/theatre for many decades so going into this venture I knew that selling out a venue with word of mouth and promo would be a no brainer.
In my short career I've appeared on TV, National commercials, websites, print ads galore however it was surreal when the Miami Herald front page article came out in the Sunday paper. I had never been featured in my hometown with such acclaim and that article filled me with lots of pride and satisfaction. Esteemed critics Christine Dolan and Bill Hirschmann gave the Royale the highest of praises.
"As good as the script is and Adler's work is, the headline is the performance of Aygemang Clay as Jackson. It seems almost impossible that this intense, nuanced creation marks Clay's first professional stage performance. It's not simply that this tall young man with a sculpted rippling body exudes some God-given magnetism."
It was the first time I achieved in my career what I believe every actor sets out to accomplish, to get lost in the character, to witness you becoming another person outside of yourself. I never focused on the audience, critics, or if people loved or hated the show. I only focused on getting better as an actor every single day. I had an out of body experience. I felt alive on that stage and throughout the duration of the performance. I was finally able to experience the evolution of the character from Audition to Rehearsal to Performance.
To prepare for the opening of the show, we rehearsed 6 days per week, 6 hours per day, for 3.5 weeks. We performed 5 shows per week for a little more than a month. It was physically and emotionally taxing, excruciating at times due to the many stomps and claps on the hard wood floor. However, if I had to do it all over again, I wouldn't hesitate. I intensified my training routing to mimic a championship boxer by running 3-5 miles per day, shadowboxing, and jump roping.
The Royale run was a harmonious synchronization of the universe. Sadly, our production coincided with the death of "The People's Champ", Muhammad Ali. Ali was a fan of Jack Johnson, incorporating his brashness and iconoclastic thinking. He differed from Johnson in the sense, he wasn't just trying to seemingly piss people off; he wanted to bring change. Through his refusal to go to war, using his ban from boxing to go speak on the plight of the "black man in America" around the country, and how can anyone forget his domination in the ring, Ali was able to be the voice of the voiceless. That's why he was "The People's Champ". His death allowed me to reach back, and grab from Ali's personality, and incorporate it into Jay. Ali was an inspiration James Earl Jones used for his lead in The Great White Hope. Even though Ali, Jack, nor Mr. Jones, would make it to my play, they all were there, as I pulled from each and every persona.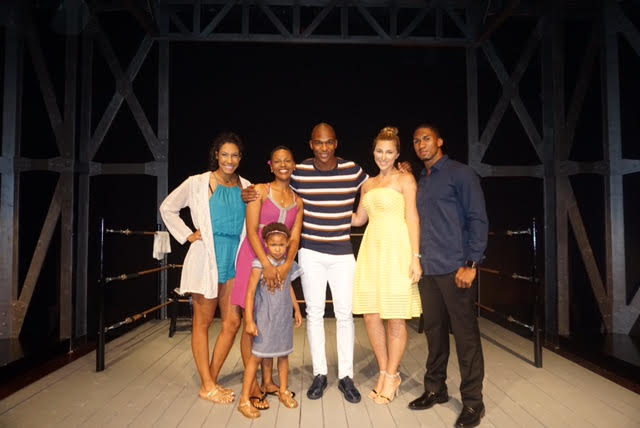 The amount of friends, family, and colleagues who showed their support from opening night until closing night was in the hundreds. People came from all around the world to witnesss a 65 minute performance in an intimate house of 153 guests sold out nearly every show. It is ironic because I saw so many people in the crowd who I'd never thought I would see in a million years, however there were some who I knew I would see that never showed up. I guess that's life. Nevertheless the support was a feeling that I have never felt before. I was extremely humbled and appreciative for all the support. Speaking of support, I had an overwhelming support from the Actors Workshop of South Florida. In its 15th year of existence, lead by Director Jane Kelly, I have been privileged to be a member for the past 3. We have shed blood, sweat, tears, and years and the hard work that we put in is paying big dividends. The members of the workshop were my homefield advantage, showering me with flowers, cards, and gifts that really made me feel special and appreciated.
We even had our own SNAPCHAT filters:
Going into this project I really had the confidence instilled in me from my acting coach Jane Kelly that I was a highly capable "professionally trained actor" and all I needed to do was go out there and do my job. I made sure I Knew my dialogue backwards entering rehearsals. The last thing I wanted to do out there was trying to remember my lines. I went to see the show in New York while it was playing at the Lincoln Center. I Reached out to several actors from previous Royale casts and picked their brain on their approach to the show and the challenges that it brought, and I received great feedback and support from them. In preparation for the role I watched the great white hope at least 5 times. Director Joe Adler gave me the part before Christmas so I had 4 extra months with the script to research and prepare.
I read the autobiography of Jack Johnson: Inside and Out the ring cover to cover. I would go to dinner and parties best dressed and imagined what Jack Johnson was really like. I Joined a boxing gym and took several boxing classes before rehearsal. That really helped a lot because I was able to see and experience REAL life fighters. A boxer is a trained assassin. The way they walk, talk, eye of the tiger so to speak helped me in the physicality of my character. I researched the stories of other African American "firsts" like Jackie Robinson and Barack Obama. I diligently researched this era to understand the root of the hate and racism and why it was so important to fight back not only the white supremacy but also the black inferiority complex. One of the most important pieces of research came from the PBS documentary by Ken Burns "unforgiveable blackness" the rise and fall of jack Johnson. It was phenomenal. It was the missing piece of the puzzle for me. During the research of the character I was having difficulty locating the truth of the character. Night after night, I would meditate focusing on channeling Jack's energy, hoping to give me insight – I believe this documentary was that energy I needed. I would reach out to the ghost of Jack, hoping that he would let me into his world. I probably watched it on average 3-4 x per week during the run of the show. Whenever I was getting rusty or complacent in my character, I would watch that documentary and then new discoveries would happen. It was magical.
Although I am truly proud of the project and my performance, moving forward I really want to improve on some technical aspects of my craft. I would really like to improve the consistency in my voice, speaking from the depths of my diaphragm so that I am not straining my instrument. Many times by the last show of the weekend I was struggling to find my voice and I know that I can improve that with time, practice, and experience. I also want to improve my skill set by adding dancing and singing to my artist repertoire. Lastly improving my emotional availability, being more vulnerable in the truth of the moment. I am proud to announce that I will be spending time indefinitely in New York City working on my craft and I am proud to announce that I am now represented by Innovative Artists, one of the best acting/talent agencies in the business. All of the hard work on the craft from the past 5+ years is finally starting to pay off. Thank you again to everyone who attended the show, wished to attend the show, or showed their support through calls and messages, I appreciate you and love you and I just want you to know like the words of Jay "The Sport" Jackson, "to be perfectly honest, y'all ain't seen nothing yet".
BEHIND THE SCENES FOOTAGE